Big congratulations to Daniel Charnley for passing his Orange Belt in #sportnunchaku at #kesshinkai HQ Headquarters Windermere.
Daniel trains under the professional tutelage of Sensei Richard Smith 6th Dan #jujitsu, 4th Dan #sportnunchaku, 2nd Dan #kobudo @kendalLeisureCentre. He is very committed to his Martial Arts and has been training now for 4 years
A few weeks ago Daniel took his grading exam and was not successful. #kesshinkai has a high standard pass rate. In some Martial Art Schools and associations students are passed whether they meet the specified martial arts criteria or not. Sometimes it's for existence, financial, ego etc.
This is Not something #kesshinkai agrees with. Your only as good as your last Grade..
Learning knowledge through experience applies to many different things in life, but having the adequate training, knowledge and experience is essential.Being dedicated and consistent in any Martial Art is very difficult and some kung fu styles are literally translated as 'hard work over long time'
Black Belt level is the Start of your Martial Arts training that you should only get through experience.
To be successful in martial arts it takes time, regular practice and consistency. Just the the same as becoming an engineer, you have to go to university and study for many years until you attain a high level. Martial Arts is the same. 4 or 5 years later when you receive your Black belt from your Sensei, he will be awarding you a 1st Degree Black Belt.
This is similar to a university degree, which takes the same amount of time and similar experience. From leaving school at 16 and choosing your specialist subjects and then graduating from university at 21 or 22 around 5 years later.
Daniel's mature, positive attitude and more importantly support from his strong family, enabled him to accept that he wasn't at the specified level and was offered a deferred pass. Where he could train diligently for the next 4 weeks and then retake the level.
At this stage or when it gets harder in Martial Arts training, many people give up but because of Daniels experience and again support, he decided to to persevere. Many people practice and Try Martial Arts for lots of different reasons and don't always see it through. Martial Arts is not just about Trying it's about NEVER GIVING UP!!!
The lessons learned and the training at #kesshinkai martial arts will give Daniel and anyone else the skills which will help them throughout their Lives.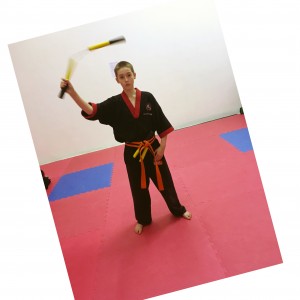 Now Daniel has passed his Orange Belt in #sportnunchaku at such a level that he is fighting against adults at 12 years old. He is currently 1st in Great Britain for #sportnunchaku Combat and training hard to improve his Freestyle Sport Nunchaku ability. Qualifying on the #sportnunchaku #greatbritain twice in 2014 and 2016,
He has also achieved his brown and red belt in Ju Jitsu last month, a hard belt to achieve. In June this year he also passed as a yellow belt in Kobudo. Well done Daniel, Keep it up!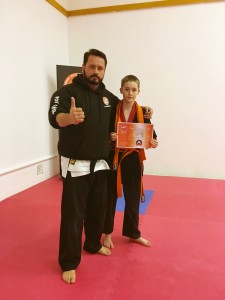 Daniel has worked very hard and demonstrated tremendous commitment to his training in all disciplines, practicing 4 out of the 24 styles his Sensei has studied. These include Sport Nunchaku & Ju-Jitsu on a Friday @KendalLeisureCentre and Kobudo an Iaido on Monday at #windermere.
If you or someone you know would like to try out one of our NEW! Martial Arts Courses starting in September some of which include
Please contact Sensei Richard Smith on 07718530346 0f fb.com/kesshinkai