Windermere
Sport Nunchaku U.K.-National Headquarters
Just off Droomer Drive,
Windermere,
LA23 2LR
Thursday's(Google Map)
Juniors & Seniors Sport Nunchaku 6-7pm
Welcome to Sport Nunchaku U.K. Headquarters in Windermere.
I first started Sport Nunchaku in November 2008, not long after starting Ju-Jitsu. At first, I found Nunchaku difficult, but after a few weeks I was making lots of progress. It is 4 years on and a lot has changed. I am now orange and white belt and going for my orange belt in March, I am also a club referee and help Sensei Richard Smith in competitions with refereeing and counting.
I have done lots of local area competitions, a European championship in Switzerland, a world championship in Kendal and in May this year I am going to Switzerland again for the 2012 world championships. I gained a Bronze medal in the Cumbria Area Championships in November '11; At present I am ranked 5th in Europe and 8th in the world. I have also been to Toulouse in France for training with the team there.
I would never have thought that this would all be possible but with Sensei's support and encouragement I have come a long way."
Josh Weetman 2012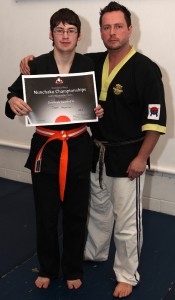 Comments are off for this post.