2oth Anniversary Open Seminar 2017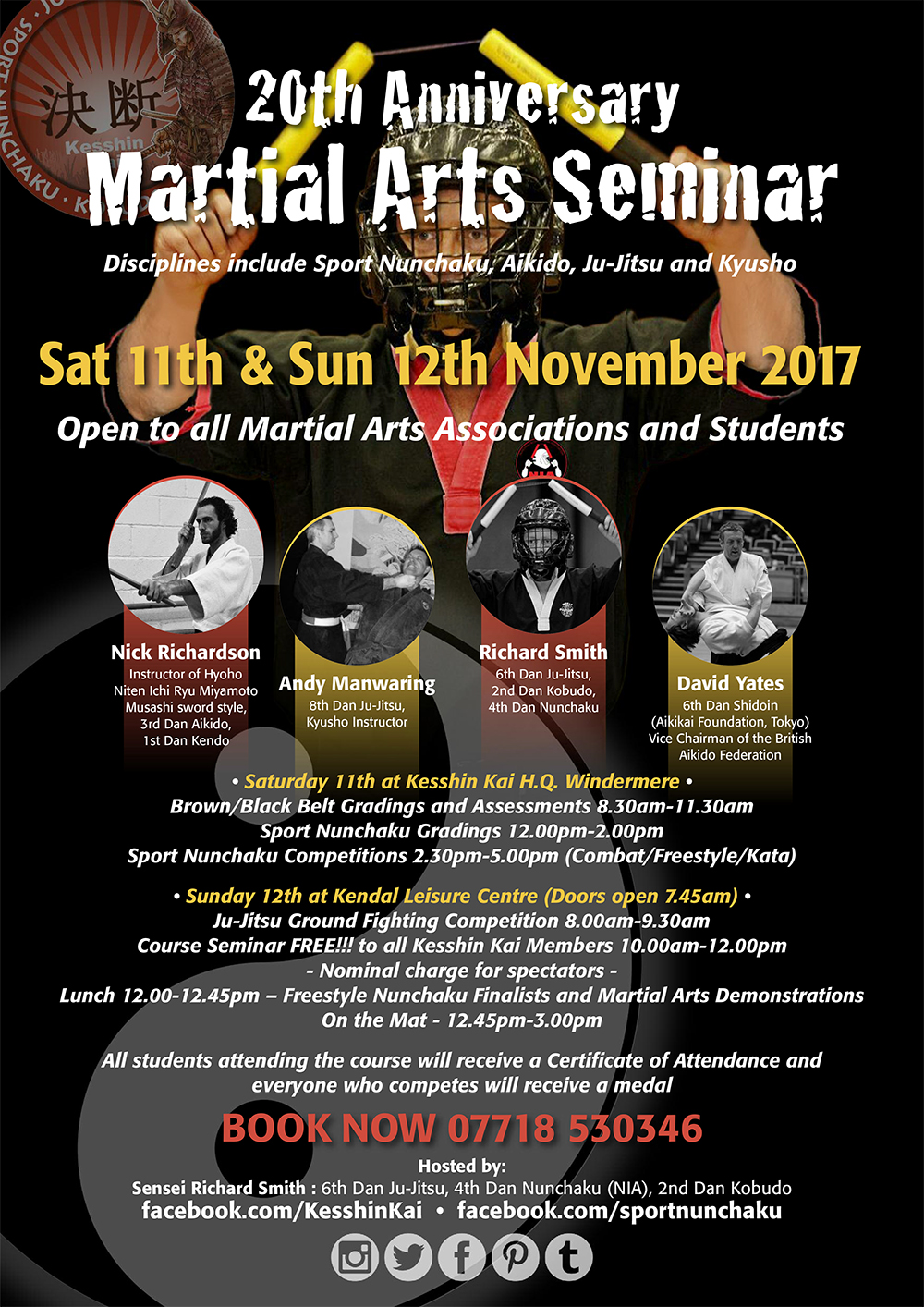 20th Anniversary Competition & Seminar
Saturday 11th-Venue-Kesshin Kai H.Q. Windermere
Brown- Black Belt Gradings and Assessments 8.30am-11.30am
Sport Nunchaku Gradings 12pm-2pm
Sport Nunchaku Competitions 2.30pm-5pm (Combat/Freestyle/Kata)
Sunday 12th- Venue- Kendal Leisure Centre Doors Open 7.45am
Ju-Jitsu Ground Fighting Competition 8am-9.30am
Course Seminar FREE!!! to all Kesshin Kai Members 10am-12pm.
Nominal Charge For Spectators.
Non-Kesshin Kai Members-Juniors £20 & 14+ £25
Lunch 12-12.45pm – Freestyle Nunchaku Finalists and Martial Arts Demonstrations.
On the Matt-12.45pm-3pm.
Course Sensei's-
Sensei R. Smith 6th Dan Ju-Jitsu(KK), 4th Dan Nunchaku (NIA), 2nd Dan Kobudo(IBF)- Cumbria
Sensei T. Starling 7th Dan Jiu-Jitsu (IBF) London
Sensei D. Yates 6th Dan Aikido (BAF). Manchester
Sensei N. Richardson Instructor of Hyoho Niten Ichi Ryu Miyamoto Musashi Sword Style, 3rd Dan Aikido -London
Sensei A. Manwaring 8th Dan Ju-Jitsu/Kyushu- Morecambe
All Students attending on the course will receive a Certificate of attendance and Every one who competes will receive a Medal.