History
The Nunchaku originates from Okinawa, a small island situated just off the south east coast of Japan. It was used for farming. It is traditionally known as a rice flail and used by farmers for threshing rice.
The people of Okinawa were banned from using any forms of weapons by the Japanese government at that time and so were forced to adapt their farming tools as fighting weapons in order to defend themselves.
Over the years traditional martial arts has changed and today many people all over the world still practise traditional martial arts.
The Nunchaku was made most famous in the early seventies by the late legendary martial artist and movie star `Bruce Lee'.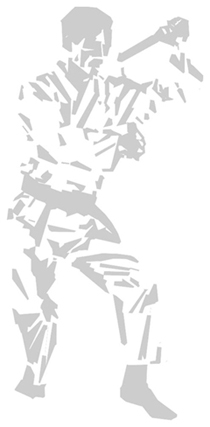 Nunchaku-do (The way of Nunchaku) was first formed by the Dutch in the late eighties. This martial art style spread throughout Europe and America and now just like other Martial Art is practised all over the world.
On Saturday June 9th 2007 Sensei Smith was fortunate enough to host the European Nunchaku-do championships. The day was a great success and Britain came away with 8 medals.
In March 2008, Sensei took 10 students to the World Nunchaku Championships in Switzerland. Over 300 students from all around the world took part including Swiss, Hungary, France, Portugal, Holland, USA, Africa and of course Great Britain. Great Britain brought home 1 gold medal and 1 bronze.
In December 2009 another team of 11 was trained by Sensei Smith and competed at the European Championships, gaining 5 Medals, 1 gold, 3 Silver and 1 Bronze.
Sensei Smith is currently ranked 4th in the World, 2nd in Europe and 1st in Great Britain.
He has also Hosted the World Nunchaku Championships in Kendal, on 22nd -23rd May 2010.
At present Sensei is training a New Team of 5 to compete in the World Championships in Switzerland, May 2012 and the European Championships in Holland also in May 2012.



Contact:

Richard Smith
2nd Dan Nunchaku Instructor
5th Dan Ju-Jitsu,
1st Dan Kobudo
Tel : 07718530346
email:

info.nunchaku@yahoo.co.uk