International Sport Nunchaku Open Weekend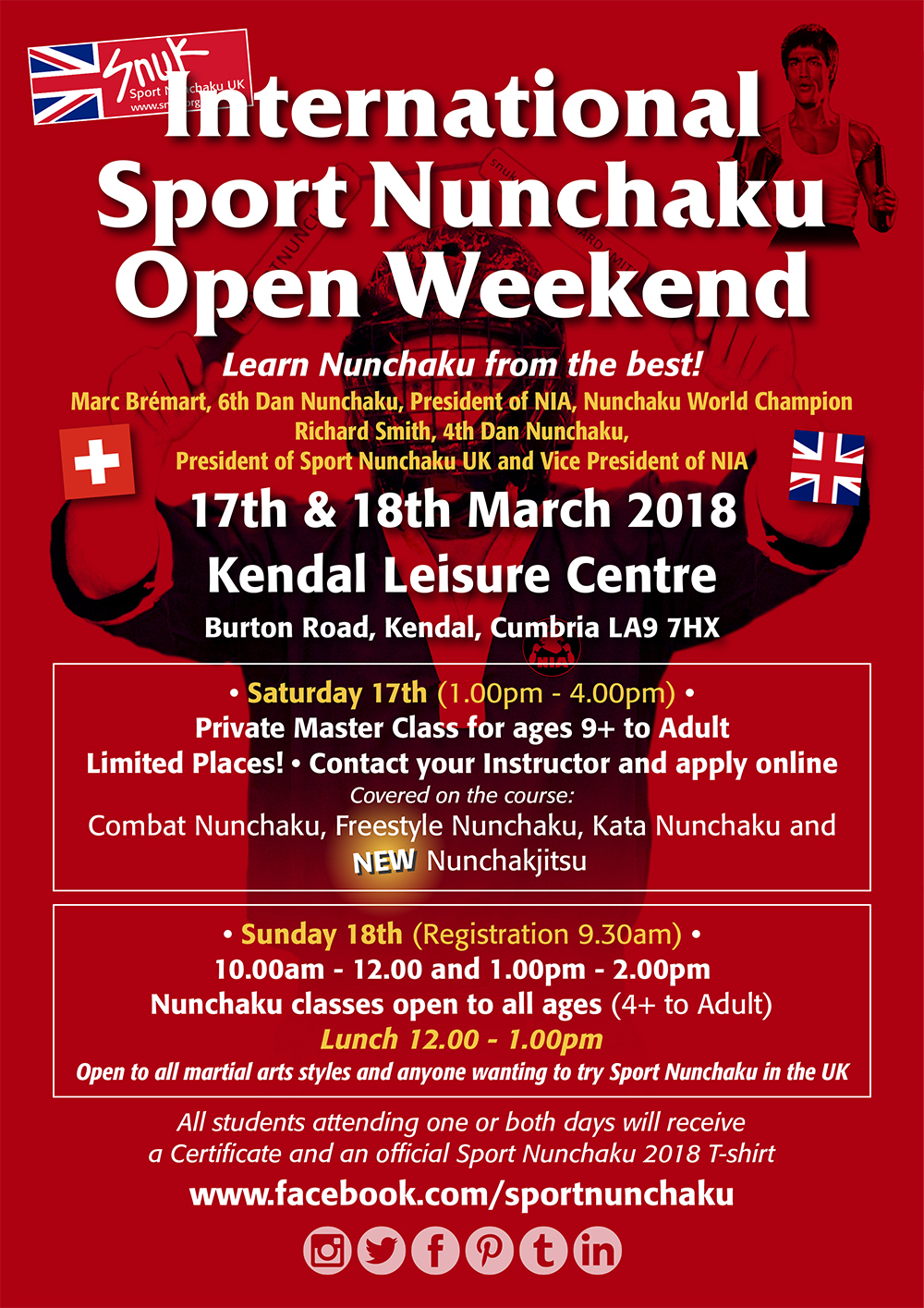 17th March 2018
Option 1 -Masterclass Sport Nunchaku Personal Training Course with World Champion 6th Dan Nunchaku Sensei Marc Brémart and Sensei Richard Smith 4th Dan Nunchaku-1pm-4pm, also includes 18th March 2nd Training Day Free!!!
(Limited Places Please Book Below) Juniors- 9-13 Years £110/Seniors -14+ -Adults £135
(See your Instructor about details for a Affordable Payment Plan or Early Bird Discount offer-expires 6th Feb)
18th March 2018
Option 2 -Sport Nunchaku Training Day Open To All. On the course each student will cover Sport Nunchaku Combat, Nunchaku Freestyle, Nunchaku Kata and New this year Nunchakjitsu (Ju-Jitsu techniques practiced with Sport Nunchaku's)
9.30am- Registration
10am-12pm Sport Nunchaku Training
12pm-1pm Lunch
1pm-2pm Sport Nunchaku Training
(Limited Places Please Book Below) Juniors- 3-13 Years £40/Seniors -14+ -Adults £50 
(See your Instructor about details for a Affordable Payment Plan or Early Bird Discount offer-expires 6th Feb)
All Students and Instructors attending must register Below no later than 6th Feb and have paid a 50% deposit to your Club Instructor by 11 Feb. Participents registering after may be refused or be charged a £5 late fee.
All Students attending one or both days will receive a certificate on completion and a Official Sport Nunchaku 2018  T-shirt.
Please Like and Share
New #sportnunchaku First 2 Lessons Free!!! Offer ends 31st January 2018.
Register here   #kendal#windermere #Carlisle #liverpool
For any other Information including becoming a Member of our Association please contact #NationalCoach #sportnunchaku U.K. Founder and Vice President Nunchaku International Association Sensei R.Smith 4th Dan Nunchaku, 6th Dan Ju Jitsu 07718530346